Accessible to future and recent graduates of the ICHEC Group, but also to everyone else, the ICHEC Alumni association offers a wide range of services and activities to support you throughout your career.
Our services and activities are focused on 3 principal pillar :
1. Networking
---
In order to promote exchanges between graduates and activate your network.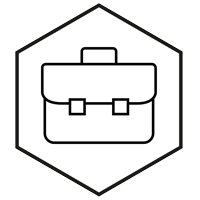 2. Career
---
By supporting graduates throughout their professional careers.
3. Visibility
---
Giving maximum visibility to our talented graduates! 
ICHEC Alumni : 
Organises around twenty meet-ups per year: conferences, workshops, company visits, job fairs, after work drinks, sports events, etc.
Gives access to subscription members to the database of over 15,000 ICHEC Group graduates.
ICHEC Alumni :
Maintains the profile of its members within the network through various communication tools.
Supports your professional initiatives (start-ups, conferences, publications, etc).
Become an ICHEC ALUMNI subscription member:
To support our work and projects by putting together a friendly, professional network, while benefiting from EXCLUSIVE OFFERS!
MAKE THE MOST OF THE BENEFITS EXCLUSIVE TO SUBSCRIPTION MEMBERS
 
ANNUAL TARIFFS SUITED TO EACH PROFILE
---

 ICHEC Master's students

---

                  35 € / year

---

 Recent graduates of ICHEC (The first 3 years following your principal diploma)

---

                  65 € / year

---

 ICHEC Alumni (After the 4th year following your principal diploma)  

---

                  95 € / year

---

 

---

 

---

Lifetime membership      

---

                   1950 €

---

 

---

 

---

Non-graduates from the ICHEC Group

---

                  110 € / year

---

Tariffs do not include the fun events, but access to preferential rates for these.

---

 
If you wish to attend our events without being an ICHEC Alumni subscription member, a one-off financial contribution will be requested when registering.
Would you like to start enjoying these benefits from today?
AND FOR NON-PAYING MEMBERS...
 
You can also benefit from our services, such as job postings and internship opportunities updated on a constant basis and which can be consulted freely on our website, the paper magazine "ICHEC News" in your letterbox twice a year (only for ICHEC graduates in Belgium), as well as our regular after-work drinks events or even access to our Young Pros programme for all ICHEC Master's students.
Obviously, the majority of our activities are open to everyone, subscription or non-paying members, graduates of ICHEC or otherwise. 
Take a look at the calendar and sign up to our newsletter to stay up to date!