ICHEC Group graduates represent a highly qualified community with a prevalence of skills in Management in its broadest sense, Finance and Marketing. Made up of 75% executives and directors operating in all business spheres, as well as recent graduates, the ICHEC Alumni Network is a huge talent pool.
So, as a contact facilitator between ICHEC group graduates and the business world, the ICHEC Alumni association offers numerous partnership opportunities with companies who wish to do so with a view to sharing and "win-win-win" advantages for all 3 parties: the partner company, the ICHEC Alumni association and the ICHEC graduates.
BY ESTABLISHING A PARTNERSHIP WITH US YOU WILL ENJOY:
Opportunities to increase your visibility
---
Through the joint organisation of conferences and/or workshops and at our events.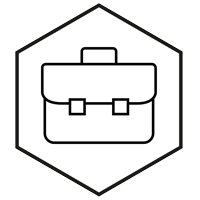 Business opportunities
---
Thanks to networking sessions at each of our events and networking opportunities.
Recruitment opportunities 
---
By further promoting your vacancies and through access to our database.
To best meet your needs, we offer different partnership packages, which can then be further adapted to create a bespoke solution and therefore meet your expectations in full. Whether it be our global "Corporate" partnership, our partnership package linked to our "Young Pros" programme or an ad-hoc support partnership at one of our events, we are happy to offer you multiple options.
For more information on our offers and to become a partner
THEY SUPPORT AND TRUST US
---
Find out who our partners are :