ICHEC Group graduates represent a highly qualified community with a prevalence of skills in Management in its broadest sense, Finance and Marketing. Made up of 75% executives and directors operating in all business spheres, as well as recent graduates, the ICHEC Alumni Network is a huge talent pool.
So, as a contact facilitator between ICHEC group graduates and the business world, the ICHEC Alumni association offers numerous partnership opportunities with companies who wish to do so with a view to sharing and "win-win-win" advantages for all 3 parties: the partner company, the ICHEC Alumni association and the ICHEC graduates.
BY ESTABLISHING A PARTNERSHIP WITH US YOU WILL ENJOY:
Opportunities to increase your visibility
---
Through the joint organisation of conferences and/or workshops and at our events.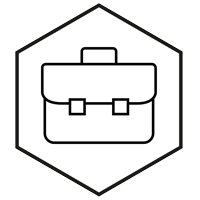 Business opportunities
---
Thanks to networking sessions at each of our events and networking opportunities.
Recruitment opportunities 
---
By further promoting your vacancies and through access to our database.
To best meet your needs, we offer different partnership packages, which can then be further adapted to create a bespoke solution and therefore meet your expectations in full. Whether it be our global "Corporate" partnership, our partnership package linked to our "Young Pros" programme or an ad-hoc support partnership at one of our events, we are happy to offer you multiple options.
For more information on our offers and to become a partner
THEY SUPPORT AND TRUST US
---
Find out who our partners are :
Our Corporate partners
KPMG provides audit, tax and advisory services.
They work closely with them clients, helping them to mitigate risks and grasp opportunities.
Through helping other organizations mitigate risks and grasp opportunities, they can drive positive, sustainable change for clients, them people and society at large.
KPMG member firms operate in 153 countries, collectively employing more than 207,000 people, serving the needs of business, governments, public-sector agencies, not-for-profits and through member firms' audit and assurance practices, the capital markets. KPMG is committed to quality and service excellence in all that they do, bringing them best to clients and earning the public's trust through them actions and behaviours both professionally and personally.
In addition to tax, legal, audit and advisory services, KPMG in Belgium offers specific advice to Family owned Business.
Our Young Pros partners
Nielsen est une entreprise mondiale de mesure et d'analyse de données qui fournit la vue la plus complète et la plus fiable possible des consommateurs et des marchés du monde entier.
Notre approche associe les données exclusives de Nielsen à d'autres sources de données pour aider nos clients du monde entier à comprendre ce qui se passe actuellement, ce qui se passera ensuite et comment agir au mieux sur la base de ces connaissances.
Depuis plus de 90 ans, Nielsen fournit des données et des analyses fondées sur la rigueur scientifique et l'innovation, en développant continuellement de nouvelles façons de répondre aux questions les plus importantes auxquelles sont confrontés les médias, la publicité, la vente au détail et les industries de biens de consommation en évolution rapide. Entreprise du S&P 500, Nielsen est présente dans plus de 100 pays, couvrant plus de 90 % de la population mondiale.
Fondée en 1999, EASI est une société belge de services informatiques qui propose des solutions développées à partir des dernières technologies, aussi bien dans des domaines tels que les logiciels et les applications mobiles que l'infrastructure, le cloud et la sécurité.
« L'entreprise se distingue par son mode de management participatif mis en place dès les débuts (…) Aujourd'hui, 100 % des actionnaires d'EASI sont des collaborateurs (employés et managers), au total 43 actionnaires physiques. Tout employé peut prendre une part dans le capital de la société, et ce sous certaines conditions. EASI est un groupe qui emploie aujourd'hui plus de 200 personnes », a souligné le président du jury, Laurent Levaux.